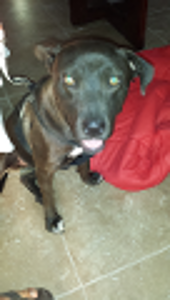 On October 2nd around 11:30 p.m. I saw this rather large, dark chocolate dog wandering the streets in my residential community. She seemed lost but, since we have a small park in front of our home, I figured she had gotten out and was walking the park. I went over to her cautiously and she came to me. She had no collar, no license, no tag of any sort. I didn't know what to do and I, being a dog lover and having four small dogs of my own, and not wanting her to get hit by a car since our streets have no street lights, took her home to keep her overnight. I gave her food and water. I don't know when she had last eaten or had water because she was very hungry and very thirsty. I asked my neighbor if the dog was hers and she said no, but both of us agreed that the dog had been well taken care of and was an indoor dog. I kept her outside because of my other four dogs and then at about 2:00 a.m. she started crying and barking so I brought her in. My other dogs slept in the bedroom and I slept in the living room with her. She slept on the floor right next to me.
The next morning we walked her around our community and the one next to ours looking for signs or someone who was looking for a lost dog. But there was no one and no signs. We didn't know what to do, so we took her to the animal shelter, at 40 miles distance still the closest and the one that corresponds to our county. We put her picture on Facebook, Craigslist, and even took her to a vet on a Saturday morning to see if she had a chip, and nothing. We tried several stores to see if they had bulletin boards where someone would post lost dogs and found nothing.
A week went by and we decided that if Bella (the name we gave her) had not been claimed by her owners or adopted, then we would adopt her ourselves. Sure Bella is three times the size of our other four dogs – and twice the weight – but we weren't going to let her be euthanized! So, Bella, you came home to live with us after all. You are currently recovering from the upper respiratory infection and parasites that you got from the shelter and we have to keep you isolated from the rest of the family for two weeks but you are worth it to us and that's why we have you registered with PetLink. You will never be an unknown dog again – welcome to the family, Bella!
---