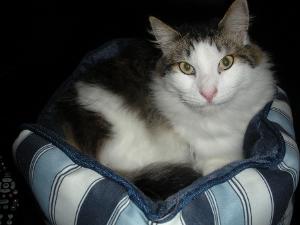 My cat, Dixie, was stolen right out of my front yard on August 23 2012 at 11:19 a.m. We were even home at the time and when we looked back on the home security system, we actually saw the thief take her! I didn't know him or why this guy would do such a thing. We called the police but they can only do so much. We told them Dixie had a PetLink microchip and collar and that we would love to get her back home.
Well, now, we have Dixie back! It's been almost two years!! This is part of the email we received Monday 21 April 2014 from a pet shelter: "We just had a Good Samaritan bring a stray cat in to our office who has a microchip registered to you! We would love to see Dixie get home to you. Please call our office so we can reunite you with Dixie!"
Now Dixie is home – hungry, skinny and dirty but still that sweet Dixie we loved so much. She was found about 20 miles away from our home. The ONLY reason we got her back was because she had a MICROCHIP. PLEASE!!! PLEASE!!!! Have your cat MICROCHIPPED!!!!!
---