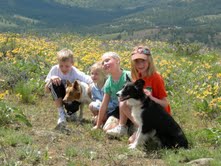 Not long ago, my wife and I got separated from our precious little Border Collie, Belle, which caused near apoplexy for both of us. We live on an island in Puget Sound near Seattle. On a recent Sunday morning, we decided to take both of our Border Collies, Traveller and Belle, on a run through a local, heavily wooded 365-acre park on the island, called Center Isle. About an hour into our walk we heard the sound of skeet shooting about a quarter mile away at the local Sportsman's club. It was my mistake to have the dogs out at that time – as a club member, I am well aware of the regular event from 10:00 a.m. to 1:00 p.m. every Sunday, and know that both dogs are skittish around loud noises, with guns and air planes at the top of their list.
At first, the dogs didn't seem alarmed but, shortly thereafter, Belle took off. Anne and I were not particularly worried because Belle knows the area and will usually home right in on where we leave our vehicle. Not this time, however… When we arrived back to where we had parked, there was no Belle. Then we became concerned. Anne and Traveller stayed with our vehicle, while I backtracked the trails that we had just been on. After about an hour and a half I returned, terribly frustrated, having had no luck finding Belle.
In the meantime, however, while Anne was waiting in the parking area, two women drove in and asked if she might be looking for a Border Collie named Belle. Oh what a relief…but what had happened?
Belle had obviously gotten disorientated and gone in the opposite direction from us, ending up on the far side of Center Isle, a good mile away from where we began. While driving down the highway a gentleman spotted her and recognized Belle was not from the area. Fortunately, she is extremely people friendly and approachable. As luck would have it, the man is the head of an organization on the island called "Pet Protectors". Noting that her collar had both her name and our phone number, he first called an associate who was in the area and who had a scanner. This lady could check to see if a dog had a microchip, which of course Belle did. She read the information, called my cell phone (which I had neglected to take with me) and then our home phone, following up with an email… All this activity took place within an hour and a half from the time of Belle's disappearance.
I cannot begin to express how excited Anne and I are to have our precious little princess Belle back with us. The speed and action of the people from the island Pet Protectors was phenomenal. Belle and Traveller are the first pets we have ever had microchipped, but they certainly won't be the last. For anybody who loves their dogs as Anne and I do, microchipping is a must do!!! We also are strong advocates of name and phone numbers printed on pet collars, as tags can be too easily torn off. We are total believers in microchipping our pets … it only takes one little incident like this.
I don't remember the cost, nor do I care. Belle and Traveller are worth whatever it was and a lot more to us. I would like to praise all the people who were involved in Belle's recovery and jumped in fast to help. Thank you PetLink and all the associate organizations for the great things that you do for the world of pets!!!
---