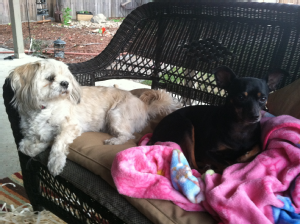 Batman, our Miniature Pinscher, escaped our (now fortified) fence one Dark Knight (lol)… August 5 2011. I was worried about his safety but, since he was wearing his PetLink tag, I felt if he just stayed alive someone would eventually call in his information. I cried myself to sleep for several nights. We posted on craigslist and registered him missing at all the local shelters and with the dog warden. We posted flyers all over our area.
Fast forward nearly 10 months and life has gone on, but without my little friend, Batman. Then, PetLink calls and says, "Someone has recovered your dog." I'm speechless because my "new" rescue dog is standing beside me. "Your dog, Batman," she says. "I have the person who found him on the other line."
I get pretty hysterical on the phone and say, "Oh my God" (a lot). Batman's heroine, Kathleen, tells me he was crossing a busy street and she stopped because she didn't want him to get hit. He jumped right into her car when she opened the door (yep … that's him). She did what his first "finder" should have done and took him to a nearby vet who scanned and identified him and called PetLink. She offered to drive Batman to my house … and 15 minutes later he was home. Back to the Bat cave with his family and a new friend!!
---