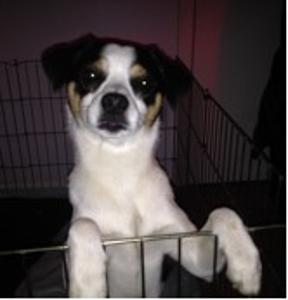 Buddy, my Rat Terrier, was missing for three days. I had to go out of town and we thought he had gotten out of the house and was trying to find me. We put out signs, we placed 'Missing Dog' ads and we called all the vets in the area. No one knew where Buddy was but, then, on the day I cut my trip short to come home to join the search, I received a call saying that they had found him! It turns out that, while I was packing, Buddy had wandered into my closet and apparently found something that caught his interest. He never barked or scratched on the door to let anyone know he was in there. On the day I came home, my friend's nephew went into my room to clean. He heard a faint scratching at my closet door, he opened it, and there was Buddy! He had been in the closet for 3 days!!
When I got home, I had to go to work, and didn't get a chance to remove the signs or ads. Yesterday, while I was eating lunch at a nearby restaurant, I got a call saying that Buddy had been found and that he was at a local vet. I told the lady that it had been a misunderstanding and that we had already found Buddy. The lady said that, no, it really was Buddy and that his microchip had confirmed his identity. I realized that, somehow, he had gotten loose again, so I went to the vet to pick him up. When I got there, Buddy met me with a big smile on his face like he had been on a big adventure. I scooped him up took him to the pet store and bought him a collar and tag. I keep him indoors most of the time and I have a fenced back yard but, somehow, out of my five dogs, Buddy is the one who finds a way out. I think I better leave the signs and ads out just in case!
Thank goodness Buddy has a chip. He came to me originally as a lost dog. He has disappeared five times since I took him in one Christmas Eve. I think I should change his name to Houdini. This is the second time his chip has brought him back to me.
---