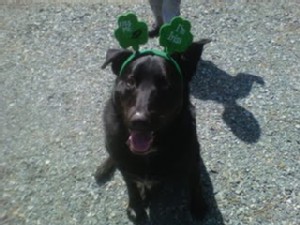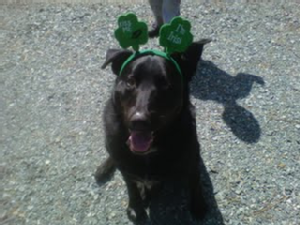 Posted: February 29, 2012
We rescued our black Lab, Gabe, from the pound when he was about nine months old, about a year and a half ago. We built him a first-class kennel and I applied Cesar Milan's training techniques. Gabe was very easy to train. We live on ten acres in a very rural area and it is important to have a dog on the property to keep various animals at bay. Gabe is very good at that and he is/was very good at staying at home.
Then!!!!!!!! my daughter and her son, who live on the property with us, rescued a four-to-five-month old puppy and brought him home to the property Christmas Eve. He is a black hound mix and his name is Toby. From the time Toby got home, his nose hit the ground and he is "hunting". As a result of his nature to explore, guess who turned out to be a follower…that's right, our Gabe.
So, they have taken to exploring the rural area around us. We have many boutique wineries in the area and they seem to be keen on the winery several acres over. On the Saturday in question, they ended up at the Iversen Winery enjoying the wine tasting and the treats they were able to beg from the customers.
Fortunately, we had Gabe chipped and connected to PetLink (Toby will soon be chipped and linked also). Through the email your company sent out, I noticed that there was a collar tag you could purchase that would include the pet's PetLink registration number and the PetLink number to call if the pet is found.
So…this is how Gabe and Toby, after a good day of wine tasting and treat begging, were reunited with our family. We are very grateful that PetLink is easy to be involved with and suggest to anyone with a pet to get them chipped and registered with PetLink.
Many thanks from the Martin Family and especially from my grandson, Jacob. Jacob and Gabe are inseparable. Gabe is his protector on the property. This cute picture of Gabe was taken at a St. Patrick's Day party!
---