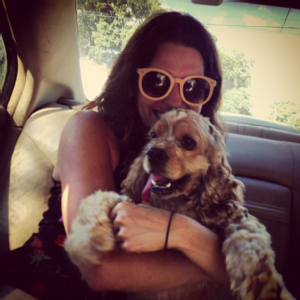 Colonel Gris Gris got out of the house during Mardi Gras in New Orleans. Considering that he is a well-known Cocker Spaniel in the neighborhood, has one blue eye and one brown eye and was clad in green for his doggie parade (all proceeds benefit our local SPCA) I thought he would be home in a week – no such luck.
We posted over 1,500 flyers, offered a reward of $500, and enlisted the help of most of NOLA's 'street punks' in looking for Colonel, but received no information. Four months later, I woke up to find the subject title 'Colonel Gris Gris has been found' on an email from PetLink on my phone. Colonel had been located and scanned for a chip! Colonel had been found in New Orleans East, running around a major avenue. He must have been taken to the East in a car, and somehow escaped or was abandoned.
A gentleman got him out of the street, renamed him Paul Wall – on account of his attitude! – and kept him for about a month. He needed some veterinary care, so the man took Colonel to the SPCA who promptly scanned him for a microchip and up popped his ID! Colonel would not be back home with us had it not been for his PetLink microchip. Microchipping your pets is a MUST and it works! Thank you, PetLink.
---