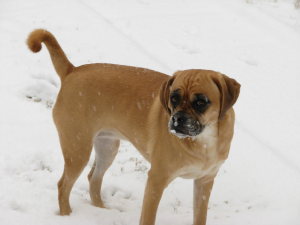 We just moved into a new house in May. Unbeknownst to me, there's a crawl space in the house under the deck. This crawl space is open, not sealed off and our Pug, Haley, got underneath the house and managed to push out a board that covered the opening and got out.
Being a Pug, she loves to sniff everything she can. Usually she lays on the grass but not until after exploring all the other smells. We'd found a couple of holes in the fence previously where Haley had got through and we'd found her. I patched those up and then she was still determined to find another way out!
This time my wife and kids went scouring the neighborhood and couldn't find her. My wife said she saw an Animal Control truck down the street but there was no news. Then we started to get worried. At 8 o'clock that night we had a call from PetLink saying Haley had been found and her chip had been scanned. Animal Control called too but it was too late to get her and we had to wait till the next day to pick her up.
It's interesting, it took probably a week and a half for Haley to get back to normal. I put some lattice on the deck so we don't have to worry. Even if it's a fairly quiet neighborhood, sometimes Haley can bolt and we are always concerned she'd be hit.
Thank you, PetLink! We're very grateful. Your service is great and it enabled us to sleep that night, knowing that Haley was OK.
---