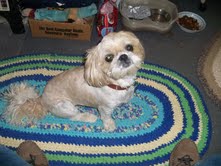 We went on a trip in our RV and left our Shih Tzu, Koko, with my son. Koko was playing in the yard near a gap but my son said 'Koko's too big to go through that hole.' However, Koko had just been shaved and he did, in fact, go through that hole. Unless we put a rock on top of holes, Koko can get through them!
A lady called Carmen found Koko and took him to where my son and daughter-in-law work but they work swing shift so Carmen and her daughter kindly held on to Koko until they were ready.
Koko has the PetLink tags and, because he's a service dog, he has that ID too with his name on it. We are very happy with his microchip. I admit that after we moved 500 miles, I didn't even think 'Who all do I need to call?' and didn't even think of contacting PetLink to inform them of our move until we got here. I'm lucky we did it because our old cell number wasn't valid! The rock is now securely in place. Koko loves his uncle Ron and is glad to be back home.
---