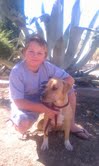 Posted: November 12, 2012
My daughter met a girl who had a dog, a Chinese Shar-Pei. The girl was going to going to take it to the pound but my daughter asked, "Mom, can we have it?" We had just lost a dog so we decided to take in the Shar-Pei, called Libby.
After a month, we had Libby spayed at a low-cost vet who asked me, "Do you want to have her chipped too?" Of course, it was a good idea so we did.
Just three weeks after the surgery Libby took off. We live in the desert – there's a lot of land to get lost in – so I reported her missing online. Within an hour, I had found out she was safe at the animal rescue.
Previously, I had been to the animal rescue to look for a missing dog and the lady had yelled at me because I hadn't chipped my last dog. She was there at the rescue with Libby and we laughed remembering the other time.
That was the first time Libby got loose and then it happened again! When I was collecting Libby from the animal rescue, the same lady had told me that, to keep Libby safe in future, I would need to get a stake and a chain. Well, the next thing you know Libby's gone missing again, chain, stake and everything!
It wasn't until ten days later, I got a phone call saying Libby had been found. They know her at the pound now. The runaway rascal has too much energy and she's still only a year old! I'm so grateful to have her back and the children I are elated. A huge thank you!
---