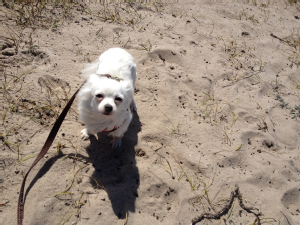 I go away on vacation and, as soon as I get to my destination, I receive a call that my dog, Coco, has run away! She was let out in the yard and decided to go running up the hill, so fast, that no one could catch up with her and then no one could find her. I went into a panic and emailed my neighborhood association to post her picture online and then I called the local shelter to say my Chihuahua was missing. PetLink gave me a lot of helpful information on what to do, on what steps to take to find your dog. It gave me hope knowing Coco was chipped, and it made me realize that I also needed to put a collar and ID Tag on her too.
I had no idea that some people, meaning well, do not want to bring a dog they have found into the shelter preferring to care for it at their home until the owner is found. The problem is that, if the pet is not scanned for a microchip, it can take longer to locate the owner. At my shelter there is a 'Lost and Found' binder where they post the found pet. So, if you do not go into the shelter and look through it, you may never know that your pet was found.
Luckily, this was not the case for Coco and everything turned out for the best. It rained and, two days after she had run up the hill, Coco was found on my deck sitting in a chair under the umbrella! What a VERY, VERY, naughty, little dog!!!
---