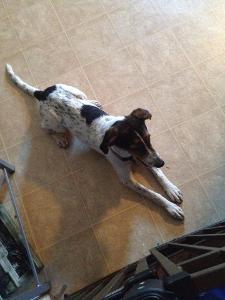 Posted: September 12, 2014
On May 25, 2014 our six-month-old pup, Sofie, scaled our daughter's chain-link fence and disappeared. PetLink's auto-generating posters really helped in those initial moments. I could barely think straight after Sofie first disappeared, let alone draft a flyer. We put posters EVERYWHERE! Sofie's PetLink registration also gave me peace of mind as I knew that she would be scanned if she showed up at a shelter or vet's.
More than a month after, on July 2, 2014, our son-in-law was leaving for school when he heard tags jingling. He thought maybe their dog had gotten out so he went to check. It was an emaciated Sofie!! She had found her way home!! I had left out a pillowcase with my scent on it in the hope she would smell it and know she was safe. Maybe that was what finally helped Sofie find us again – either way, our baby is home!
---