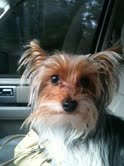 My daughter got Wilson as a puppy for Christmas in 2010. He is definitely a member of the family and we celebrate his birthday on September 1. He is now a year and a half. He and my daughter are best friends. Recently, he went missing for two hours which seemed like eternity. We had the entire neighborhood searching for him. He had escaped while I was at the store for 30 minutes.
When I returned, I realized he was gone and we immediately began searching. There was no sign of him. Then, after dark, about two hours later, the kids in the neighborhood began screaming that they had found him down the street between garbage cans. He was wet, muddy and scared. I took off running and got him in my arms. I had been crying because he was missing and then I cried because he had been found!
In the time he was gone and I had been searching, I called PetLink and reported him missing. I just knew that someone had stolen him. He is too cute!!! I was just sick with thinking about how he would be treated. Luckily, I was wrong. He was just lost. I then called PetLink back and reported him safe at home. It makes me feel better to know that he has a microchip and can be identified, and his family can be notified at home.
---