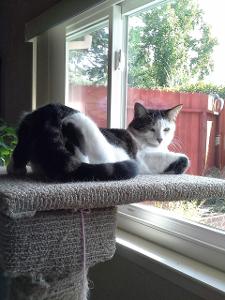 Posted: November 21, 2014
My cat, Inka, does not let anyone other than her owner Esther – that's me! – pick her up. She is a beautiful cat who likes to sit at the front window most of the day. Because of the gestures Inka makes, we know that someone is at the front door, and we can even tell from them if another cat is around.
I feel secure having a PetLink account where I can store and modify Inka's information. Even though she is an inside cat, we let her out when we're outside too. So, in the unlikely but possible event that Inka should get away, I feel much, much better knowing that the chip is inside her.
We Love Inka A Lot!
---