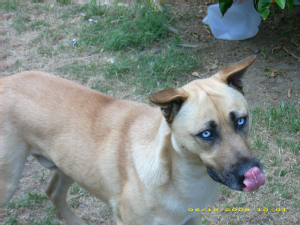 During the past five years we have fostered many dogs rescued from animal shelters.
Though it's difficult to give them up when we've nursed them after neglect or abuse,
our reward is finding them new, permanent homes where they will be loved and
respected. One dog we rescued, we named 'Lucky', since he was just hours from being
euthanized. Lucky didn't seem anything special as he cowered in his cage, dirty and
dejected, but striking ice-blue eyes indicated that this dog had spirit.
After several months of rehabilitation we found perfect new owners for him. He went
to live with a young couple in a rural area in northern California with a large yard and
lots of nearby hiking trails, perfect for this dog who loved the outdoors. As with all
our rescues, we sent Lucky off with a microchip, up-to-date vaccinations and with
a dowry of his favorite toy and leash. Over the next couple of years his new owners
would send us emails with photos and news of Lucky which we received with relish.
Recently, we received a call from Santa Cruz Animal Control, inquiring whether we
had lost a dog. This surprised us since we don't live in Santa Cruz and our resident
dog was lying at our feet! But, remembering that Lucky and his family had recently
relocated to Santa Cruz, we asked if the dog had blue eyes. Indeed, this lost dog,
with no collar or identification tag turned out to be Lucky. We called his owners and
further investigation revealed that they had left town for the day but the front door
to their new home did not latch securely. Lucky had gotten out and was picked up
by caring citizens and taken to the local Animal Control. The owners claimed Lucky
the same day and not only got him a dog tag with his new address, but transferred his
PetLink microchip to their name. Once again, Lucky lived up to his name and was
reunited with his new owner, thanks to his PetLink microchip. Thanks for the valuable
service you provide.
---