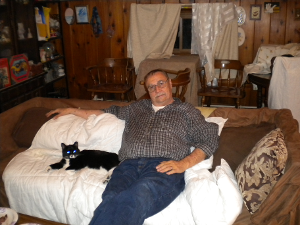 Posted: February 27, 2015
Our black and white cat, Tux, escaped from the house back in October. The first thing we did was inform our Humane Society that she was lost and that she had a microchip. For the first three weeks she took up residence under the neighbor's deck and we almost caught her several times. Finally, we lured her back to our yard and set her up with a tempting cat castle with heating and everything!
But still, all the traps we tried didn't work! Tux is one smart kitty but … one morning she goofed and chased the neighbor cat into the shed where we trapped her. The cat whisperer from an independent cat society came over and caught Tux in a net before taking her into the house where she hid for half a day. Then Tux came out and it's like she never left. She's following my husband around, cuddling with him and playing just like old times. Having Tux chipped with PetLink gave us peace of mind knowing that if she was picked up by the Humane Society she would be returned to us instead of being put down because she started life as a feral cat.
---